My Shed

Living in an inner city apartment is a bit of a bummer for a home shop machinist, but you just have to make do.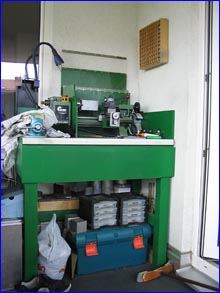 I have a 60x100cm bench out on the balcony.A vice and the FrankenSieg (the Lathe) live on it. I built the bench strong, with a nice big drawer for the tooling. My metal rack is the floor under the balcony sofa.
They were throwing out a 1.5x 1.2m peice of aircraft galley floor lino from work, because it was an older style. This has been a great floor covering for the bench area.